Ghana records 797 new Covid-19 cases, 28 deaths
Twenty-eight more persons have died from the novel coronavirus as the country recorded 797 new infections as of January 27. This brings the death toll to 405 and 4,665 active cases, according to the Ghana Health Service (GHS). Also, out of a cumulative total of 65,427 confirmed Covid-19 cases so far, 60, 357 have either recovered or been discharged.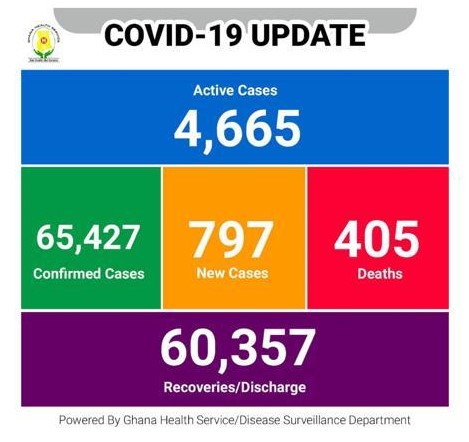 Following the upsurge in cases, the President in his last address to the nation said citizens should mask up and practice the Covid-19 safety protocols otherwise he will be left with no option but to lock down certain parts of the country again.
Nana Akufo-Addo instructed the Inspector General of Police (IGP) to direct officers, men, and women of the Ghana Police Service to ensure the enforcement of the law on mask-wearing at all public places and in public transport.
Below is a breakdown of the cumulative cases per region as of January 27.
Greater Accra Region – 38,111
Ashanti Region – 12,154
Western Region – 3,498
Eastern Region – 2,841
Central Region – 2,269
Volta Region – 944
Bono East Region – 814
Western North Region – 711
Northern Region – 672
Bono Region – 657
Upper East Region – 577
Ahafo Region – 545
Oti Region – 246
Upper West Region – 188
Savannah Region – 63
North East Region – 25